This April, California was treated to a run of shows by the Berlin-based Aussie dance-pop crew, Parcels. In addition to sets at back to back weekends of Coachella, the five-piece band wowed audiences while headlining shows in San Francisco, Santa Cruz, and Los Angeles, where they were supported by the Undercover Dream Lovers and Cola Boyy.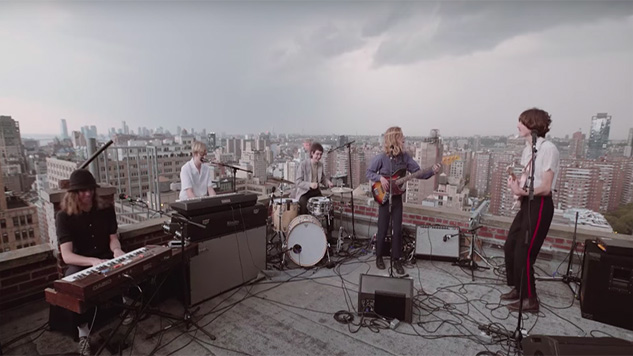 After seeing the band live, it became clear how the quintet has made such a lasting impression on the indie/electronic world since the self-release of their debut EP, Clockscared. The band has come a long way since their high-school formation, when they recorded and produced all of their music solely with a computer. They further demonstrated their talent and knack for writing hits on their sophomore EP, Hideout, which was released on French label Kitsuné (Hot Chip, Two Door Cinema Club, etc.). The project featured songs like the Chic and Daft Punk esque "Gamesofluck," the funky and charming "Older," and the disco giant of a title track, "Hideout."
While touring their EP's and honing their live act, the band sent waves through the blogosphere with the release of their single "Overnight," a collaboration with revered producers, Daft Punk. Considering the history and hype surrounding the French electronic duo, one would expect them to dominate the track, but the quintet's pairing with the robots' complement each other well; Parcels' melodies and harmonies play nicely alongside the famed producers' disco sensibilities to create a truly soulful and funky pop gem.
2018 saw the band premiere their self-titled debut album, giving them a chance to show what they're capable of with a full project. Opening with the live-staple combo of "Comedown" blending into "Lightenup," the record showcases their songwriting, harmonies, and cohesiveness as one of the tightest pop groups in recent memory.
The quintet are able to showcase their softer side, with immaculate pop ballads and crooning slow burners ("Withorwithout," "Yourfault," and one of the group's strongest vocal efforts, "Bemyself"). These tender moments are balanced by the rest of the project's suite of dance-inducing pop.
The LP's first single "Tieduprightnow," is right at home with other fresh grooves, like the collective effort led by Patrick Hetherington's lyrics/vocals and Louie Swain's admirable synth playing on "Closetowhy." They feature the new "Everyroad," a composition of interviews cut together telling a story, set behind a growing disco track that culminates with a surprising dubstep-like drop. "Tape," an electro-pop song featuring their trademark harmonized choruses, a crashing wave-esque sweeping filter, wurlitzer chords, topped with some airy flute, is debuted alongside a nice helping of exciting tracks from the band. The 12 tracks comprise an eclectic debut album filled with pop songs in a variety of styles, without losing their distinctive "Parcels" sound.
Given how fun their studio music is, it should come as no surprise that Parcels put on an exceptionally lively show. Not only are they as polished and funky as on record, but are also shockingly talented live. Drummer Toto Serret holds the beat together from behind the other four chicly-clad members who form a line at the front of the stage, throwing down song after song spanning their entire discography. They already had assumed an identity as talented songwriters and arrangers, but playing live they're able to show that they have the chops to perform songs live without missing a beat. Kicking each night off with their one-two punch of "Comedown" and "lightenup," the band started their shows with a bang from the get-go. From there, they worked their way through disco pop jams, dancefloor burners, and a heavy dose of harmonies. The band performed a healthy mix of bonafide hits and some lesser known cuts, garnering positive reactions with each. Their popular single, "Tieduprightnow" jarred a mesmerized crowd into a full sing-along mid set, while songs like the "Closetowhy" and the breezy "Exotica" were able to leave audience members with a new tune to play on repeat for the foreseeable future.
Among the most impressive aspects of the show is how well each tune translates to a live setting. With Parcels originating as a band who self-produced their music on DAW using only a computer, it wouldn't shock if their live performance was disappointingly reliant on playback in an attempt to capture that same magic, but none of it is. All of the sounds throughout their EPs and LP are replicated in their entirety, down to all of the beautiful harmonies and the last colorful sample. They feed off the crowd well– as seen in San Francisco when they were interrupted after one of their first songs with a sustained minute of applause– and use that energy to extend jam their tunes into sonic territories unexplored on their records. Weaving Nile Rodgers-inspired disco, electronic, '70s yacht rock, and exotica into a single set is no small feat, but based on the roaring approval of the crowd, they did so seamlessly.