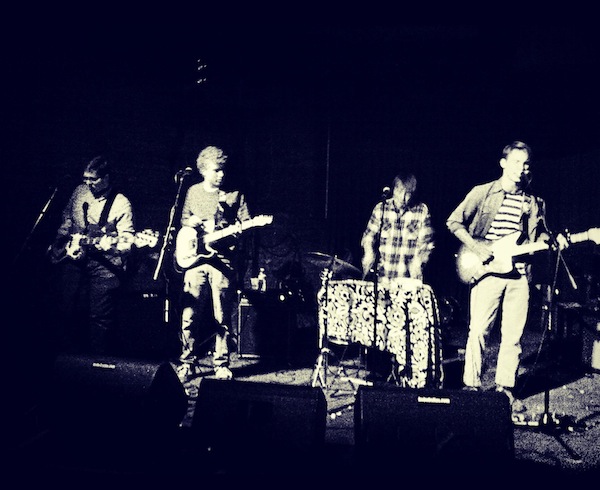 The Dallas based up-and-coming beach rock group, Lonesome Ghost, are a group I have been wanting to shed some spotlight on for a while now. They consist of four guys: Matt Callison, Trevor Scott, Tanner Robertson, and Dillon Randolph. Currently they have released one EP, None of These Songs are About You or Anyone You Know and a couple singles along the way. I got to ask them a few questions about where they come from, their musical inspirations, and the plans for the future. So press play on a few of their tunes and get to know more about the guys playing under the name Lonesone Ghost.
All of their songs are on Bandcamp, and they are all for free, either through immediate download or the name-your-price method.
1. How did you guys come together?
Well, Tanner and I formed a band back in sophomore year of high school called Slow Rewind. We put out an EP under that name, but when we wrote the songs on the Lonesome Ghost EP we didn't feel like the same band anymore. After releasing that EP, we had to make some line-up changes to adjust to people leaving for school. By 2010 we had a new bassist and drummer in Dillon Randolph and Trevor Scott. Trevor is an old friend that was a year above us in high school, and Dillon is a new one that Tanner met in Ft. Worth.
2. Being from Dallas, the beach rock vibe may be a little foreign, how did you guys come upon this style of composition?
In a way, the band sort of came together under our common love for The Beach Boys. We all come from pretty different musical backgrounds, and we all bring something different to the table. In our earliest shows we used to open with a a capella cover of "Barbara Ann," but to answer your question, I think the great thing about surf rock is that even in places where the genre is "foreign" the style of music carries a sort of familiarity that makes it accessible. We all come from different musical backgrounds, but as a band we found a common ground in surf rock music. So we hope that that translates into our music being accessible to fans of a variety of genres.
3. Who writes the music and where does your inspiration come from?
The songs on the EP "None of These Songs are About You or Anyone You Know" were primarily written by Tanner and I. Since then, the singles and the material we are currently working on have been a collaboration of the four of us. Our music has a certain nostalgic quality, and because of that I find myself taking moments from my past, people I knew, relationships I had or didn't have and trying to find some meaning in those old experiences. I like to think that maybe I have more perspective on those things that happened longer ago.
4. I know you guys are in different places during the school year, how do you collaborate on music when you guys are apart?
The internet has been a huge asset to us as a band. Without it, it's possible some of these songs would not be written the way they are. But generally the time apart during school, frustrating as it is, is a time for productivity and writing. We collaborate, through email and MediaFire, and send each other our best ideas, then those become finalized demos. Once the band is happy with the demo, then we start planning our recording process which, for the singles, has taken place at home.
5. When should we expect the next release to come?
Well, we have some songs that we're putting the finishing touches on before summer begins. It's been a while since our last release, and we're working hard to get a lot of our back-logged material out there for people to hear. Also, be expecting side project releases from the members of the band in addition to the new Lonesome Ghost material! All in all, it's a summer to look forward to for sure.
Explore Artists

Recommended

Category

Share